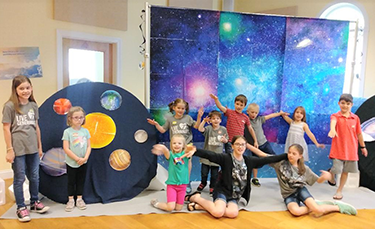 …to all who helped make our Miraculous Mission VBS 2019 a great success! Adults and children alike had a wonderful time learning more about Jesus and could see Him at work throughout the day as we served one another with love.

Vacation Bible School (VBS) 2018
Took place Saturday, July 28th
...to everyone who volunteered to teach the kids, made donations, brought food, attended VBS 2018 2018and the BBQ and generally made VBS a wonderful time of learning about the promises of Jesus and a FUN event!
About Vacation Bible School (VBS)
God's Promise on Life's Wild Ride – Life is full of thrills and spills; we may not know what's around the bend, but God does! At Splash Canyon, kids discover that Jesus is by their side on life's wild ride. God saves us through Jesus and gives us life and hope every day and forever.
Learn More